HUB class Weifeng chip VL813-Introduction
Weifeng VL813 is a USB 3.0 hub chip. The Weifeng vl813 can be converted into 4 ports. It is a fully integrated single-chip solution. It is the third generation of USB emphasizing low-power design and the industry's first integrated 5V DC-DC switching regulator. A 3.0 hub chip, the vl813 provides high performance, high power efficiency, and reduces the overall system BOM, making it an ideal choice for mobile and other low-power applications. It is an upgraded version of VL812 and VL812Pin to Pin, with high integration, omitting SPI-Flash, DC-DC, better quality, fast and stable. Today Wellink shares a solution using Weifeng chip VL813 as Typec to HDMI/USB3.0/PD fast charging docking station.
VL813-Q7 application
- Standalone USB hub
- Desktop Front Panel Center/Integrated Display/TV Center
- Notebook/Ultrabook Docking Station/Port Replicator
- Composite device platform and OS support with keyboard, mouse, monitor and other USB hubs
- Supported on all major operating systems and platforms, USB is always available, such as PC, MAC, Linux, etc.
- FW updated USB
- USB hub functionality is dependent on the USB host controller
- No need for proprietary drivers or even miscellaneous functions for battery charging
- Optimized for low power consumption
- VL813-Q7 built-in PLL and external 25MHz crystal
- VL813-Q7 supports external SPI flash for firmware upgrade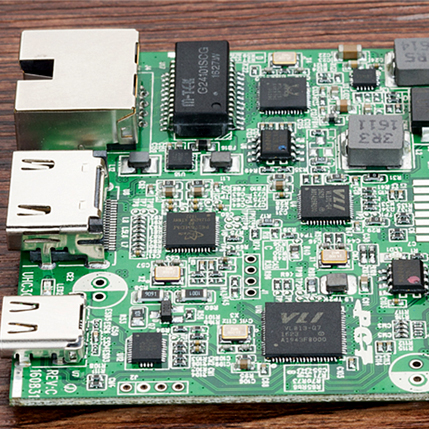 Type-C to HDMI+USB3.0+RJ45+PD fast charging docking station solution product
Support HD 4K/ 3D function Gigabit LAN
product description:
The Type-C docking station is a high-definition audio and video converter that converts a Type-C output device to an HDMI interface, which is a Type- C signal is converted into HDMI signal output, users can output the signal to high-definition projector, LCD high-definition 4K/ TV and other multimedia display devices at the same time, and can be backward compatible with USB3.0&USB2.0, and equipped with interface to charge the device and For data transmission, the RJ45 interface provides a gigabit network card for the device. The Type-C converter product shell is made of aluminum alloy metal material, which has strong anti-interference ability, corrosion resistance, easy heat dissipation and stylish appearance.
Product Specifications:
* Product size: L 75mm x W45mm x H 25mm;
* Cord length: 12cm
* Input interface: USB TYPE C front and back can be plugged
* Speed: USB 3.1 Gen 1(5Gbps)
* Main control chip: Weifeng
* Output interface material: nickel plated
* Wire: high-purity oxygen-free copper core
* Shell material: aviation aluminum alloy
* Output interface: HDMI*1 USB3.0*1 RJ45*1 USB C female socket*1
* Applicable: HDMI interface display device
USB3.0 interface, you can connect devices such as flash memory and cameras with standard USB ports, or synchronize and charge mobile phones and tablets through USB cables, and expand the function of USB HUB hub for MacBook
The USB3.1 C socket charges the device while transferring data
RJ45 interface provides gigabit network card for the device
* Supported resolution: HDMI output resolution supports HD 4K/3840*2160P/30Hz
* Audio format: DTS-HD/Dolby-trueHD/LPCM7.1/DTS/DOLBY-AC3/DSD;
* Support HDMI 1.4 version, support 3D, support CEC, compatible with HDCP;
* Support the latest MacOS WIN7/WIN8/WIN10 and other systems
The scope of products:
Source device: Applicable to devices with USB-C interface, such as Apple computer MacBook, PS3/PS4, 360 XBox, APPLE-TV and other HDTV devices.
Display device: Display device with HDMI input interface, such as TV, monitor, projector, etc.
---
【Recommended Reading 】
【Related Search】:
【Editor in charge】: Wellink Electronics All rights reserved: wellink Please indicate the source for reprinting