The gaming world has witnessed remarkable advancements in recent years, and the Steam Deck 6-in-1 Docking Station is at the forefront of these innovations. Steam Deck, a powerful portable gaming device, has already garnered significant attention, but its companion, the 6-in-1 Docking Station, promises to elevate the gaming experience to new heights. In this article, we will delve into the features, advantages, and the potential impact of the 6-in-1 Docking Station for the gaming industry.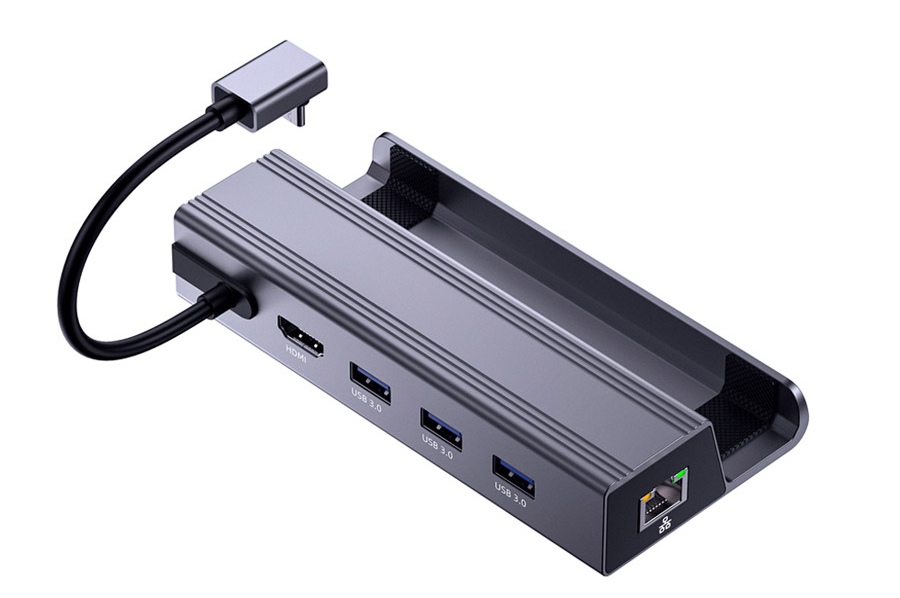 I. Features of the 6-in-1 Docking Station
The 6-in-1 Docking Station is specifically designed for the Steam Deck portable gaming device but boasts versatile compatibility. By connecting it to a TV or monitor, it transforms the Steam Deck into a formidable desktop gaming system. It supports multiple operating systems, including SteamOS and Windows, offering gamers the flexibility to tailor their gaming experience to their preferences.
1.2 Diverse Connectivity Options
The docking station offers various connectivity options, including HDMI, USB-C, and USB-A ports. This versatility allows users to connect to a wide range of external devices such as TVs, monitors, keyboards, and mice. Gamers can customize their gaming setup, whether it's for playing AAA titles on a big screen or for desktop productivity.
1.3 Expandable Storage Support
The 6-in-1 Docking Station also supports additional storage devices. Players can expand their storage space by connecting external hard drives or SSDs, which is particularly beneficial for managing extensive game libraries and media files. This feature simplifies the process of transferring games and data between devices.
1.4 Enhanced Graphics Performance
With a built-in GPU, the docking station significantly enhances the graphics performance of the Steam Deck. This means gamers can enjoy gaming experiences with higher resolutions and frame rates when connected to an external display. For players who crave top-tier gaming quality, this is an enticing feature.
II. Advantages of the 6-in-1 Docking Station
2.1 Portability and Flexibility
While the Steam Deck itself is highly portable, when paired with the docking station, it becomes even more versatile. Gamers can enjoy gaming on the go and then seamlessly transition to a larger screen at home. This level of portability and flexibility is unmatched by traditional desktop gaming systems.
The docking station is not limited to gaming; it can serve as a workstation or media center. This multi-functionality makes the 6-in-1 Docking Station a cost-effective device that can cater to a variety of needs.
2.3 High-Performance Gaming Experience
The built-in GPU in the docking station significantly boosts the graphics performance of the Steam Deck, allowing it to handle more demanding games. This means gamers can play the latest AAA titles on a larger screen without the need for a high-end desktop PC.
2.4 Strengthened Gaming Ecosystem
Steam is one of the world's largest digital gaming distribution platforms, and the introduction of the 6-in-1 Docking Station strengthens the Steam ecosystem. Gamers can purchase, share, and engage with games on Steam, while also benefiting from features like Steam Workshop and community interactions. This provides gamers with more opportunities for social engagement and participation.
III. Potential Impact on the Gaming Industry
3.1 Boosting the Portable Gaming Market
The 6-in-1 Docking Station is poised to further boost the portable gaming market. Gamers no longer need to choose between performance and portability; they can have a portable gaming device that can transform into a high-performance gaming system when docked.
3.2 Enhancing the Competitiveness of PC Gaming
Traditional PC gaming systems often require expensive hardware for high-performance gaming. The 6-in-1 Docking Station offers a cost-effective alternative for PC gamers, encouraging PC gaming system manufacturers to improve cost-efficiency to attract more players.
3.3 Reinforcing the Steam Ecosystem
Steam has cultivated a massive gaming community and ecosystem. The 6-in-1 Docking Station enhances this ecosystem, providing gamers with a seamless experience when purchasing, sharing, and engaging with games. Features like Steam Workshop and community interactions continue to thrive, contributing to the strength of the platform.
3.4 Driving Gaming Innovation
The 6-in-1 Docking Station opens up new possibilities for game developers. They can now develop games that cater to both portable and desktop gaming experiences, offering more diverse gaming choices to players.
The 6-in-1 Docking Station for Steam Deck represents a pivotal development in the gaming industry. It combines portability, performance, and multi-functionality, offering gamers an unprecedented gaming experience. As it continues to evolve and gain traction, we can expect it to have a profound impact on the gaming industry, driving innovation and shaping the future of gaming. Whether you're a gaming enthusiast or a game developer, keeping a close eye on the 6-in-1 Docking Station's progress is well worth it.
---
【Recommended Reading 】
【Related Search】:
【Editor in charge】: Wellink Electronics All rights reserved: wellink Please indicate the source for reprinting