【10 in 1 USB C Docking Station】
Connect to your MacBook or other USB C devices with a multi-port USB C docking station featuring Gigabit Ethernet port, USB C charging port with power delivery, 4K/30Hz HDMI port, SD card reader, TF Card reader, a 3.5mm audio jack and a VGA port, 3 USB 3.0 ports that allow you to connect keyboards, USB drivers, external disks or wired headphones to USB C devices. This
USB C hub
works with all laptops with Type-C ports.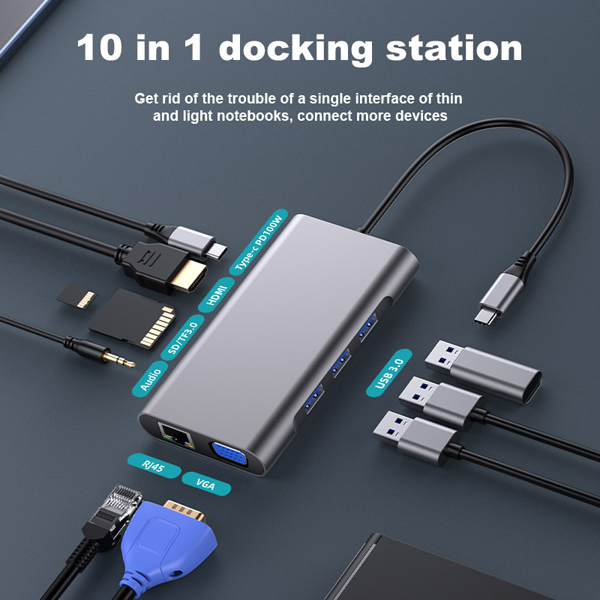 【Reliable Data Transmission】
Three 3.0USB ports supporting transfer rates up to 5Gbps connect to your smartphone, tablet and hard drive for easy data transfer. Built-in SD and TF slots, you can easily access files in general SD and Micro SD memory cards; support 2 cards to read cards at the same time, 1000Mbps network port to ensure a more stable and faster wired network connection.
【Power supply and 3.5mm audio】
The FALWEDI Multi-Port USB C Adapter provides 1 Type-C pass-through female port through which you can safely charge a connected MacBook or other Type-C laptop. 100W power input is supported, and power output (charging) is limited to 87W for safety. Plus, there's a 3.5mm audio port for you to plug in wired headphones so you can enjoy your music without disturbing others.
【Vivid 3D effect video synchronization】
HDMI supports up to 4Kx2K 30HZ (3840x2160), HDMI and VGA work at 1080P@60HZ at the same time, and the VGA port is backward compatible with 1080P>>720P. You can enjoy high-resolution 3D-effect video from a USB C computer to an external monitor, and the HDMI port supports large-screen LCD TVs or 4K Max monitors.
【Stylish Design, Premium Construction and Board Level Compatibility】
It is constructed from a thin, smooth, precision-milled aerospace-grade aluminum housing. The ideal USB C expansion hub for full-featured Type-C laptops. All performance of the product will be determined by the type c port of your computer. Compatibility: Mobile, Laptop, PS4, Xbox, Switch, etc.
---
【Recommended Reading 】
【Related Search】:
【Editor in charge】: Wellink Electronics All rights reserved: wellink Please indicate the source for reprinting