Since the official launch of the Steam Deck handset, with its relatively affordable price, powerful performance and rich game library, the Steam Deck handset has won a lot of attention. At the recent 2022 Tokyo Video Game Show, Valve showed the official Dock base of the Steam Deck handset, which is a docking station. Valve said that Steam Deck can support higher resolution after connecting to the base, However, it will not get the same performance improvement as the switch in the sled mode. Although the base of Steam Deck cannot improve the system performance, it is an important accessory of handheld devices. The docking station acts as a housing for the handset and also provides multiple ports for the controller or other USB devices to be connected. In order to attract users with higher requirements, Wellink launched a
7 in 1 Steam Deck
M.2 handheld aluminum alloy base scheme. Brands, e-commerce and foreign trade companies are welcome to order from high-quality partners.
Official Docking Station Scheme of Valve Steam Deck. The details are as follows:
USB 3.1 interface
Connect RJ45 network cable interface
2 USB 2.0 interfaces
DisplayPort 1.4 video interface
HDMI 2.0 interface
Type-C interface for power supply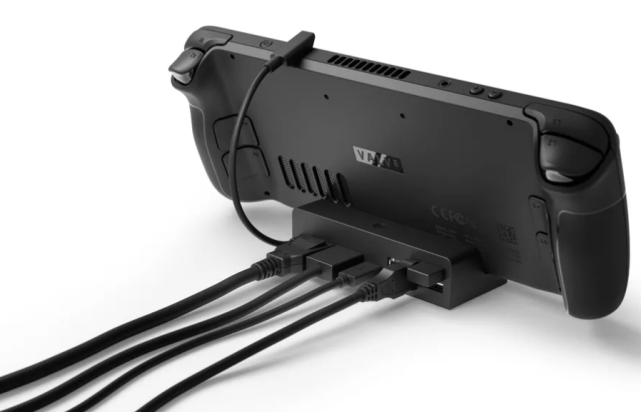 Wellink Steam Deck M.2 Docking Station Scheme is as follows:
Two USB3.0 A/F (5Gbps)
USB2.0 A/F(480Mbps)
Connection RJ45 (1000M)
External HD HDMl (4K 60Hz)
Type-C/F (PD 100W) fast charging
M. 2 5Gbps card slot (compatible with NVMe and SATA dual protocol hard disk, with a maximum capacity of 2T; compatible with M.2 solid-state hard disk 22302242 2260 2280 interface dimensions of different specifications)
Size: 139.5mmx94mmx31.5mm
Material: aluminum alloy, ABS
Compatibility: Steam Deck, mobile phone, laptop.
Wire length: 150mm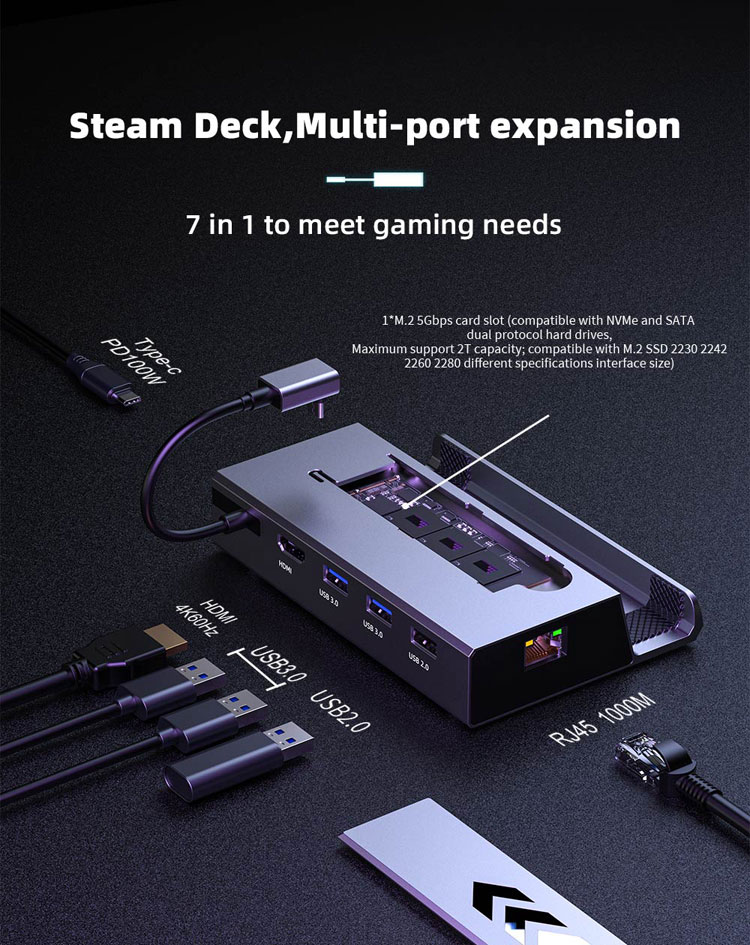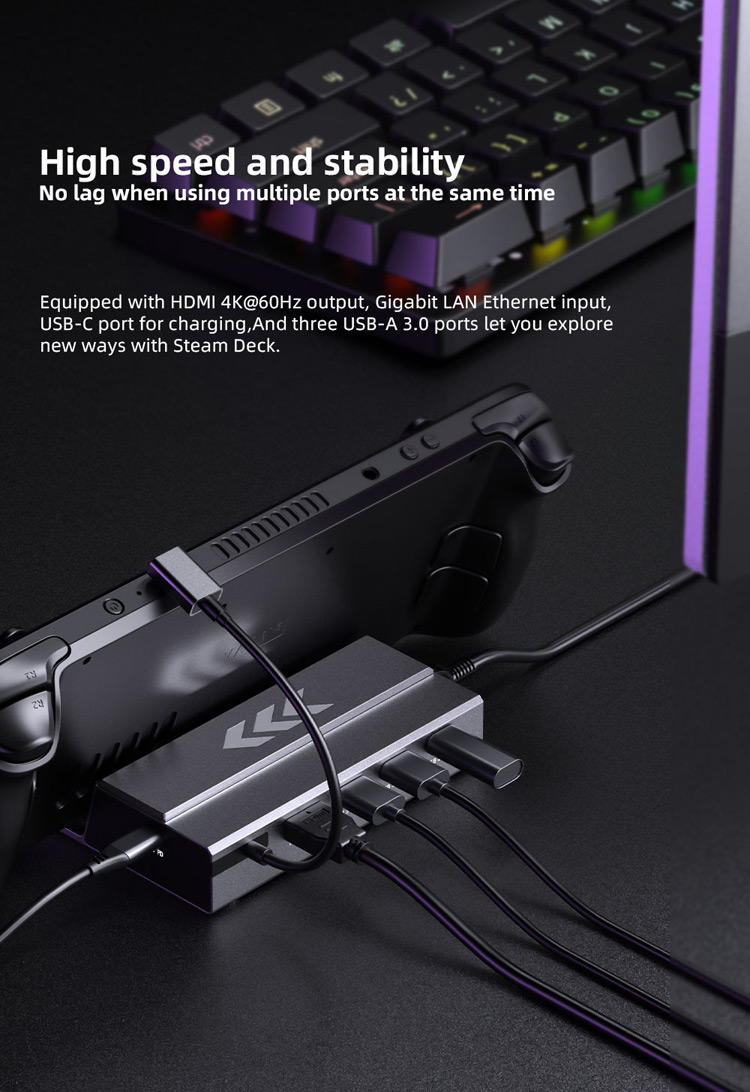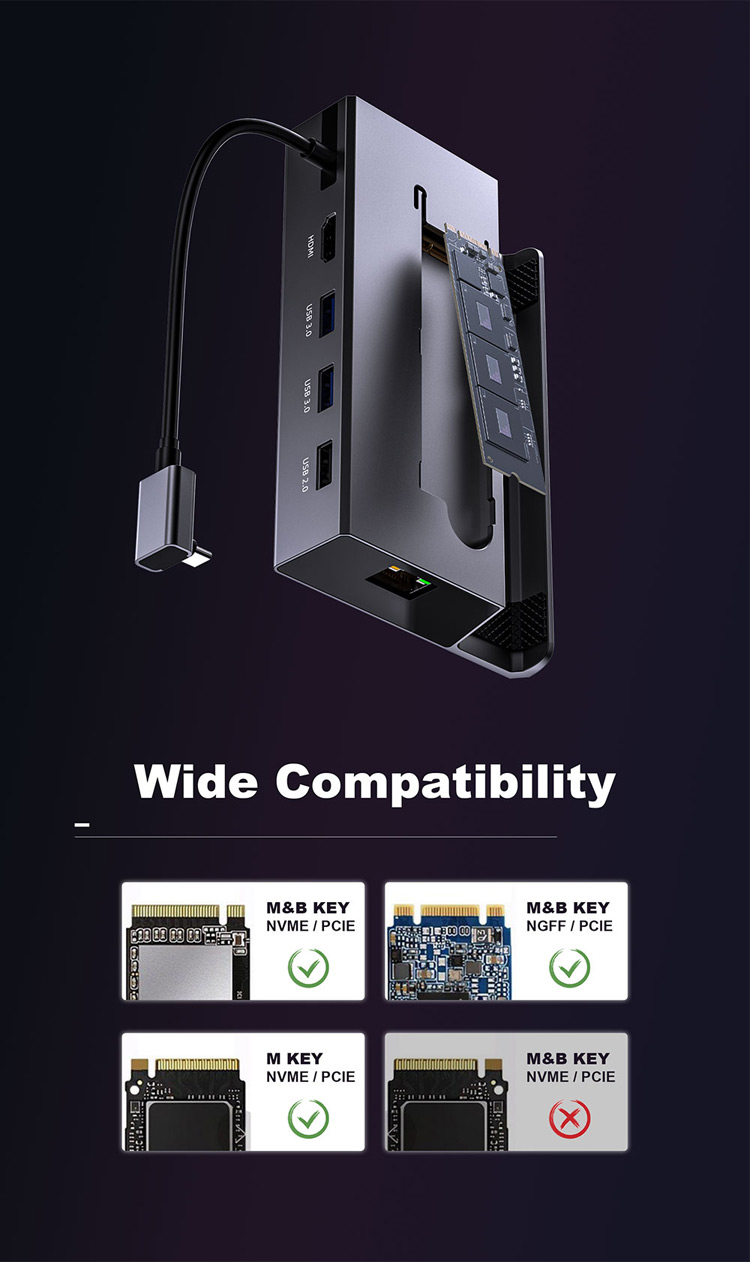 Wellink is a professional Type-c Hub docking station R&D, design and manufacturer. The main products are: Steam Deck Docking Station, Type-c Hub, etc. For more product information, you can send an email to: sales@efocn.com
---
【Recommended Reading 】
【Related Search】:
【Editor in charge】: Wellink Electronics All rights reserved: wellink Please indicate the source for reprinting